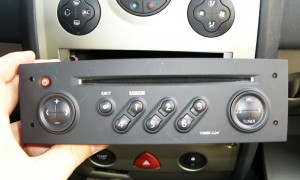 If you have removed or disconnected your car battery you will often get the 'input code' message on your radio. This code should be printed on a sticker on one of the manuals that should come with your car. However these often get lost and can leave you with no radio.
Firstly you will need to remove the radio and get the serial number from the side of the radio.
>> See video on how to remove a Renault radio.
>> Get Radio Removal Tool Here
I am no longer giving our free codes as I dont have the time. (I get 100+ requests per day!)
I now charge a small fee for getting your code for you. Use the button below to pay by paypal and I will get back to you asap with your unlock code.
Please enter the last four digits of you serial number. It MUST be in the form of 1 Letter then 3 numbers for example N297. Use the form below to get your code for just €2.50