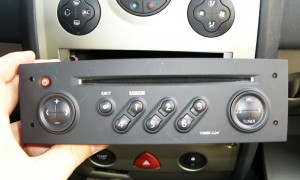 If you have removed or disconnected your car battery you will often get the 'input code' message on your radio. This code should be printed on a sticker on one of the manuals that should come with your car. However these often get lost and can leave you with no radio.
Firstly you will need to remove the radio and get the serial number from the side of the radio.
>> See video on how to remove a Renault radio.
Free Options
Call into a Renault garage with the serial number and they should give you the code if they are nice
Download the 'Renault Radio Code Generator' Android App from the play store. Link HERE
Use an online tool such as: http://www.radio-code.lt/radio-renault
Paid Options
If you are still stuck and in urgent need of your radio back you can use a paid service to get you your code. There are many websites such as the following that will get you your code for a fee.